Program
Detailed programme of the event will be made available for download prior to the event. Every participant will also receive a printed copy at the registration desk.
Transportation​
A direct bus connection from Brno to Kouty is provided by the organizers of the conference for all participants from Brno (participants from Prague are organizing their own transport). It is free of charge. The time schedule of the transportation is the following:


Tuesday, 25 June: Brno to Kouty
Wednesday, 26 June: Kouty to Brno
Departure point

Rooseveltova street, Brno

(next to Janáček's theatre)

Hotel Luna, Kouty
Departure time
7:30
18:00
Arrival Point
Hotel Luna Kouty at 9:30 - 10:00
Rooseveltova street, Brno
Venue and Accomodation
​​For this year's Retreat, the conference hotel Luna was chosen. Hotel Luna is located near the small village of Kouty in the beautiful nature of Bohemian-Moravian Highlands in the vicinity of Ledeč and Sázavou. The hotel itself is a fully equipped conference center with several lecture halls. It also features a wellness facility with a pool and a sauna. Next to the hotel, there is a lake suitable for swimming.
Hotel Luna offers two types of accommodation. The first is a classic double room with two single beds and a bathroom. The second option is a cottage for four people. The simple wooden cottages are located close to the hotel building near the lake, each is equipped with two bunkbeds only. The bathrooms for the cottages are in a separate building.
The participants will check in right after arrival or later during coffe breaks or lunch time. The checkout should be done before 10 am. A room to safely store luggage will be provided.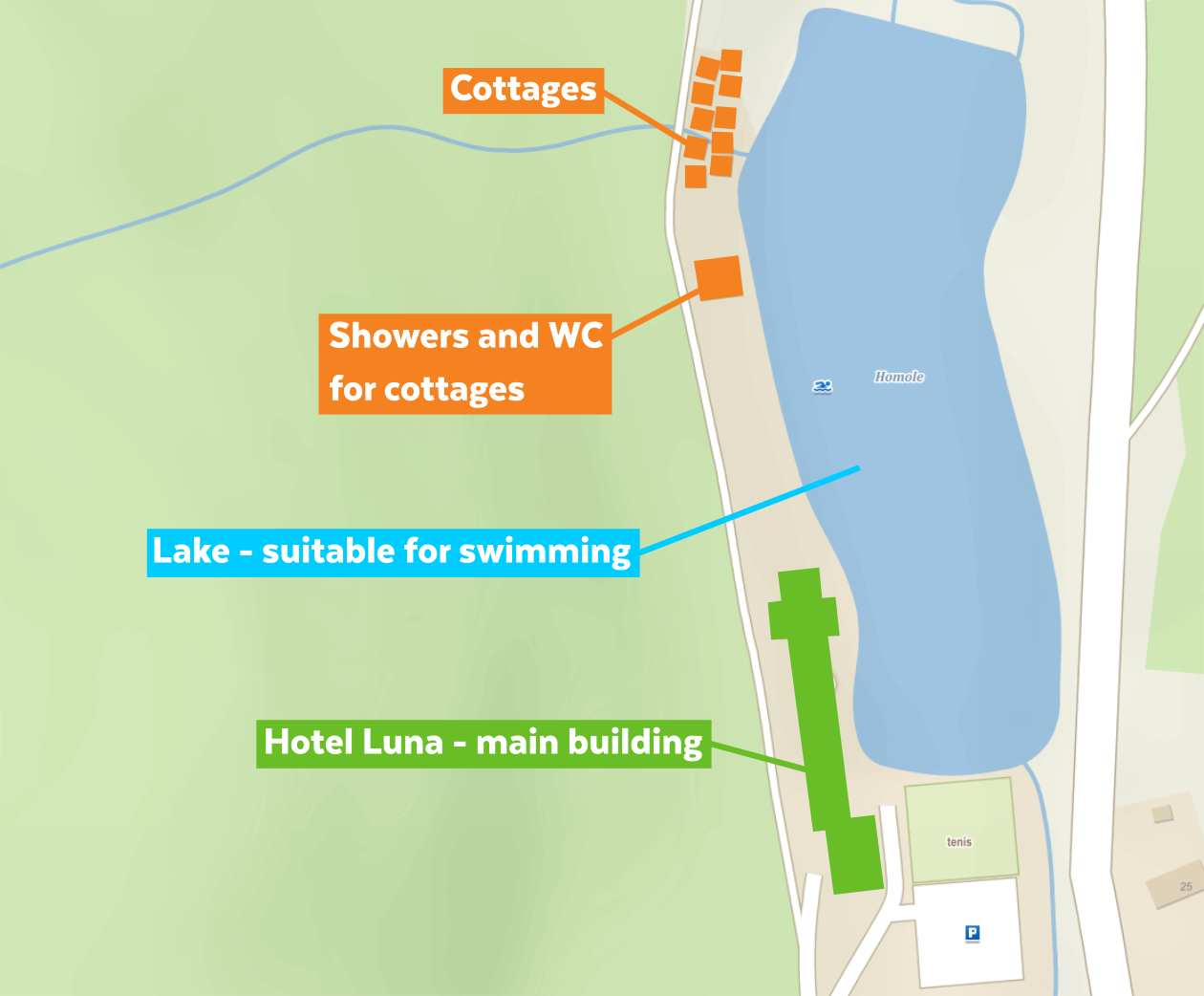 ​
Poster presentations
The student poster session will take place on Tuesday, 25 June in the evening hours, social evening will continue after. The recommended format of the posters is A0, but it is also possible to mount smaller posters on the poster stands.
By being selected for a poster, students are automatically enrolled in the contest for ThermoFisher Best Poster Award, in which other students and our invited speakers will vote for the best poster. The winners are in for a valuable prize.
Student talks
The talks will take place in the lecture hall on the ground floor of Hotel Luna. The time for a student talk is 8 minutes + 2 minutes for a short discussion. Invited talks should not exceed 30 minutes. The equipment for the presentation (a PC, microphones and a laser pointer) will be provided.
A contest for the BD Best Talk Award will take place too. The author of the best talk will be also awarded a valuable prize.